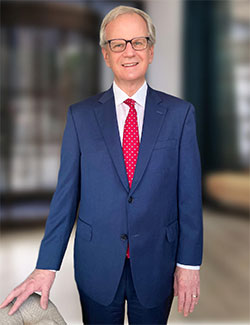 John M. Wojcik
John has worked for thirty- eight years as a lawyer both in private practice and as general counsel of a publicly traded company.
He has represented individual and business clients in a variety of legal matters involving real estate, business law, estate planning and civil litigation.  John graduated Indiana University Kelley School of Business with a degree in accounting.  Following his graduation from Indiana University he successfully completed the exam to become a Certified Public Accountant.  While attending law school at night at Northern Illinois University he worked during the day for a public accounting firm.
Six years after graduating from law school John provided legal counsel to one of his business clients that led the client to become a publicly traded company.  Shortly after the completion of the initial public offering for the client he became General Counsel for the company.  Over the course of the following six years of his employment with the client, he obtained business operational positions with increasing levels of responsibility until he was appointed president and a member of the board of directors.
John is admitted to practice law in the states of Michigan, Indiana and Illinois including the U.S. District Court for the Northern District of Indiana and the U.S. District Court for the Western District of Michigan.
John and his wife Julie have two adult sons.  For the past twenty years outside of his law practice he has been very involved in assisting with the establishment of programs to enable Catholic secondary and elementary school education to become affordable for more families.
---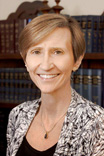 Kay L. Radiger- Office Manager & Probate Legal Assistant
Kay has been a member of the firm and its predecessor since 1994. Kay oversees all of the administrative aspects of the daily operations of Farina Wojcik. Additionally, Kay has extensive knowledge in the area of estate planning and administration for all client files. Kay assists in the creation of estate planning documents including wills and revocable trusts and the ancillary estate administration of out of state clients. Kay and her husband Jerry have two adult sons and four grandchildren. Kay cherishes every opportunity to spend time with her four grandchildren and is a very avid Chicago Cubs fan.
---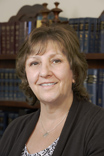 Elizabeth A. Rettig- Real Estate & Business Law Legal Assistant
Elizabeth (Liz) A. Rettig is a legal assistant who focuses her efforts in the area of real estate law and business law.  Liz has been employed in the legal profession since 1973 and has focused her efforts on real estate and business law.  Although she was born and raised in Chicago, Liz and her husband John have made Harbor County their home for over thirty years.  Liz and her husband John have two adult children and three grandchildren.
Liz has extensive knowledge of real estate and how Michigan real estate taxes are determined.  As part of her daily job duties Liz works with clients on real estate closings, real estate tax appeals and Section 1031 exchanges of real estate properties.  In addition to Liz's favorite past time of spending time with her children and grandchildren she enjoys giving back to the community through her involvement with the New Buffalo Service League.